BOTOX® is proven to improve muscle tone and treatment response in Adult Spasticity
Proven efficacy and dosing established across 7 pivotal studies
Adult Upper Limb Spasticity (ULS)1-4
Number of Patients
Baseline Scorea
BOTOX® Dosage
Labeled Endpoints
MAS Improvement
Elbow
Wrist
Finger
Thumb
Ankle
CGI Improvement
PGA Improvement

SWIPE
N = 126
BOTOX® (n = 64)
Placebo (n = 62)
Wrist ≥ 3
Finger ≥ 2
200 Units to 240 Units
Median change from
baseline in wrist flexor
Ashworth Scale scoreb




N = 91
BOTOX® (n = 65)
Placebo (n = 26)
Elbow ≥ 2
Wrist ≥ 3
360 Units (n = 21)
180 Units (n = 23)
90 Units (n = 21)
Median change from
baseline in wrist flexor EAS
scoreb




N = 88
BOTOX® (n = 69)
Placebo (n = 19)
Elbow ≥ 2
Wrist and/or
Finger ≥ 3
360 Units (n = 23)
180 Units (n = 23)
90 Units (n = 23)
Median change from
baseline in elbow/wrist
flexor EAS scorec



N = 170
BOTOX® (n = 87)
Placebo (n = 83)
Wrist ≥ 3
Finger ≥ 2
20 Units in the adductor pollicis
20 Units in the flexor pollicis longus
Median change from
baseline in thumb flexor
MAS scored




N = 109
BOTOX® (n = 72)
Placebo (n = 37)
Wrist ≥ 3
Finger ≥ 2
Thumb ≥ 2
Low-dose group (n = 14)
15 Units into the adductor pollicis
15 Units into the flexor pollicis longus
High-dose group (n = 43)
20 Units into the adductor pollicis
20 Units into the flexor pollicis longus
Median change from
baseline in thumb flexor
MASe and CGId scores




N = 124
BOTOX® (n = 61)
BOTOX® + placebof
(n = 63)
Elbow ≥ 3
Finger or
Wrist ≥ 2
400 Units (n = 61)
240 Units (n = 63)
Median change from
baseline in elbow flexor
MAS scoreb





Adult Lower Limb Spasticity (LLS)1

SWIPE
N = 468
BOTOX® (n = 233)
Placebo (n = 235)
Ankle ≥ 3
300 Units to 400 Units
Mean change from
baseline in ankle flexor
MAS scoreg
Mean Physician
Global Assessment of
Response (CGI)g


CGI, Clinical Global Impression; EAS, expanded Ashworth Scale; MAS, modified Ashworth Scale; PGA, Physician Global Assessment of Response.
a Includes Ashworth Scale, EAS, and MAS.
b Primary endpoint at Week 6.
c Primary endpoint at Week 4.
d Secondary endpoint at Week 6.
e Other endpoint at Week 6.
f Study participants received BOTOX® 240 Units in the wrist and finger flexors plus either placebo (n = 63) or an additional 160 Units of BOTOX® (400 Units total; n = 61) in the elbow flexors.
g Co-primary endpoints: Average of scores at Weeks 4 and 6.
*P < 0.05
Check marks indicate endpoints measured in study.
BOTOX® provided significant improvements in muscle tone in Adult Spasticity
0.5- to 2-point reduction from baseline in Ashworth Scalea score vs 0 to 1 point for placebo.1
ACCORDING TO MARKET RESEARCH:
Less than HALF of physicians discuss BOTOX® efficacy with their patients5
Help your Adult Spasticity patients understand what to expect with BOTOX® treatment.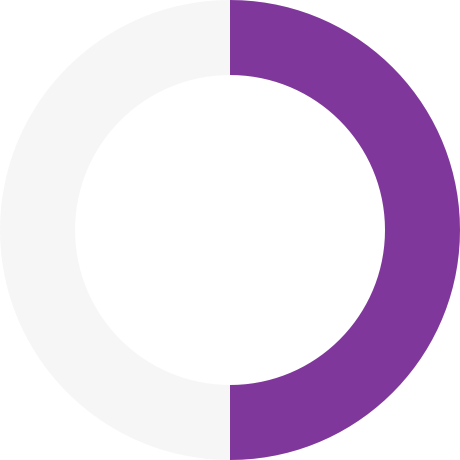 A CLINICAL TRIAL (STUDY 6) EVALUATED
BOTOX® 400 Units vs 240 Units in the upper limb4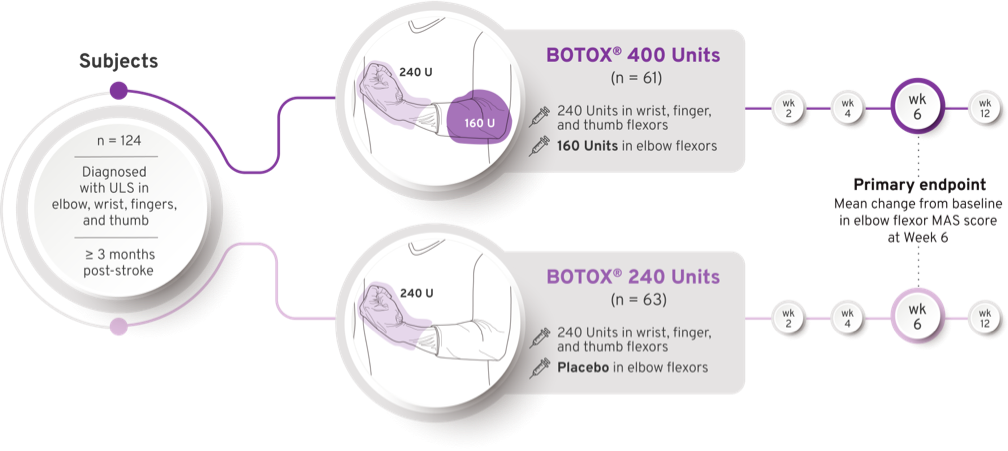 Primary endpoint
Mean change from baseline in elbow flexor MAS score at Week 61
IN ADULT ULS CLINICAL STUDY 6
BOTOX® 400 Units demonstrated significant MAS improvements vs 240 Units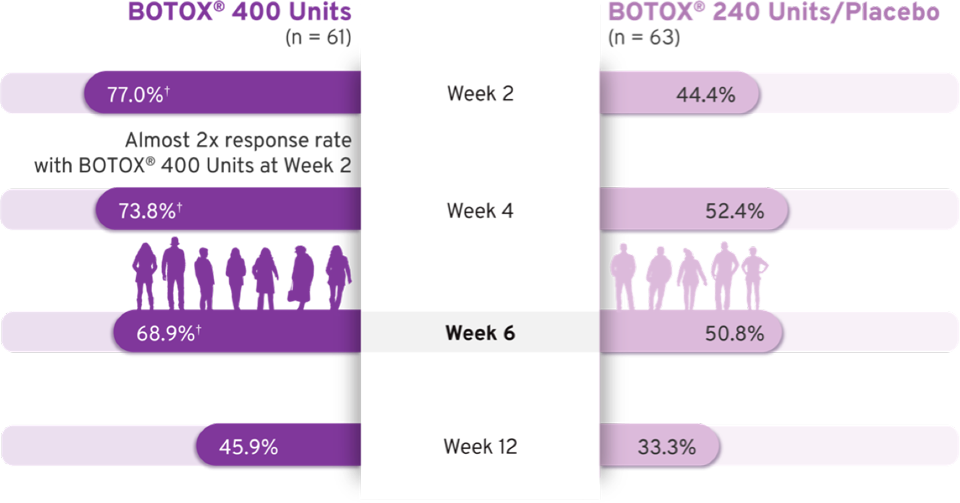 The responder rate analysis supports the statistically significant change from baseline in elbow flexor MAS score at week 6. In the clinical study report, the responder rate analysis at week 6 for elbow flexors is the primary endpoint, while change from baseline in MAS score in elbow flexors is a secondary endpoint. In the final labeling, however, mean change from baseline in elbow MAS score at week 6 is the primary endpoint.
IN ADULT LLS PATIENTS 2+ YEARS POST-STROKE
BOTOX® 400 Units in the ankle + toe flexors significantly improved muscle tone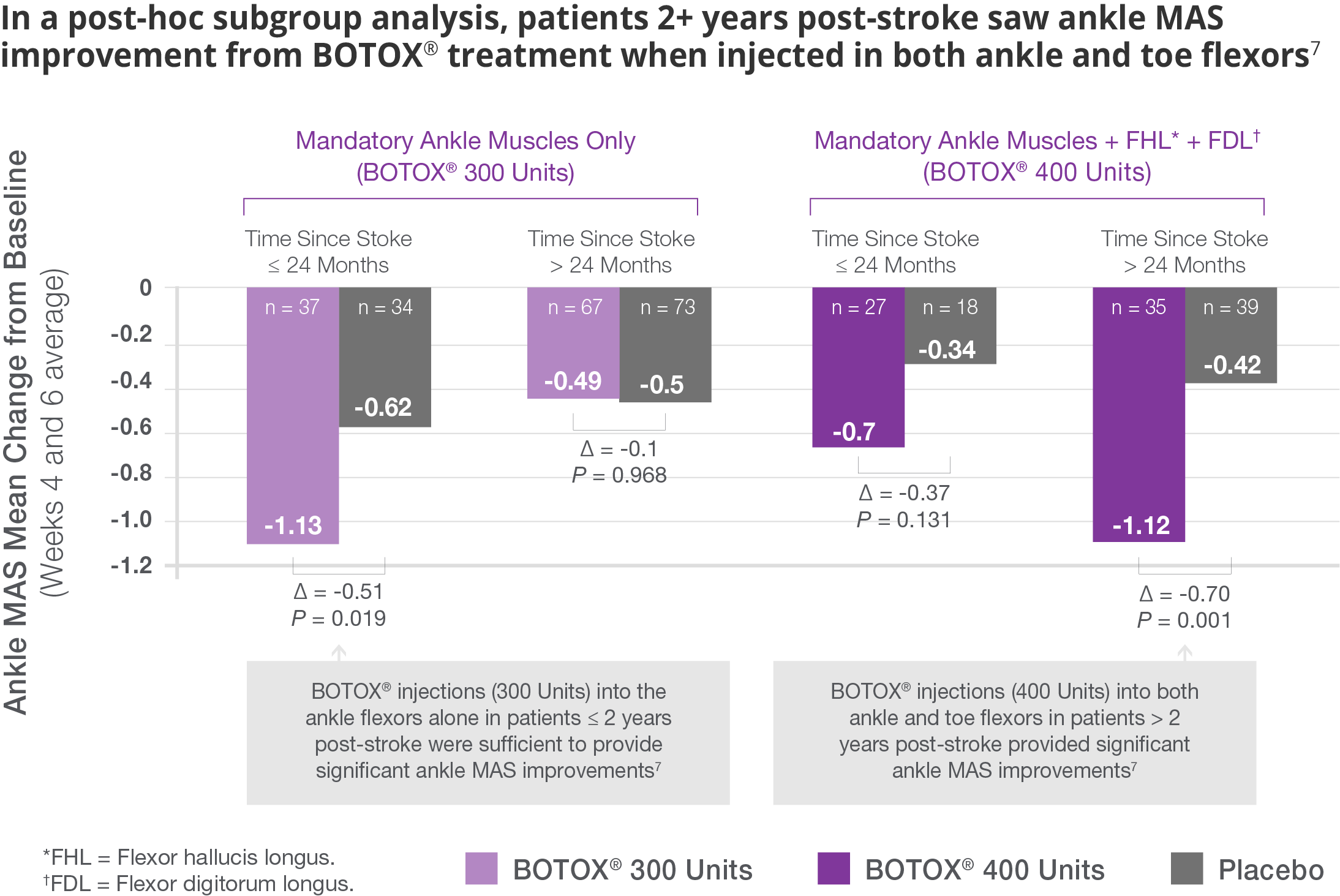 NOTE:
It is unclear whether the results were due to the additional muscles injected, the increase in total BOTOX® dose administered, or the increase in dilution of BOTOX®.
Study design: Post-hoc subgroup analysis of the double-blind phase of the BOTOX® pivotal study for Adult LLS (REFLEX) assessing the impact of muscle selection patterns and time since stroke on ankle MAS in Adult LLS patients based on change from baseline to average of weeks 4 and 6 vs placebo.
Multiple organizations recommend BOTOX®
The AAN* recommends that BOTOX® should be offered for focal manifestations of Adult Spasticity involving upper and lower limb spasticity (Level A)8
The AHA/ASA† recommend botulinum toxin injections into localized upper and lower lower limb muscles to reduce spasticity (Level A)9
*American Academy of Neurology.
†American Heart Association/American Stroke Association.